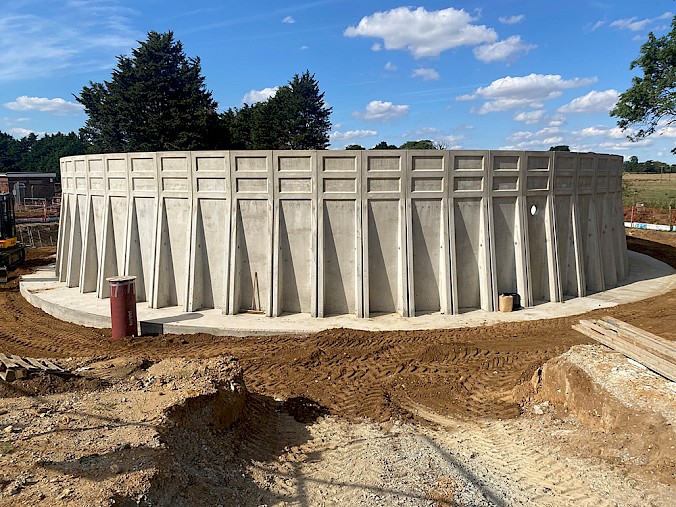 There are a host of reasons why precast concrete products are a better choice for specifiers and end users alike ranging from guaranteed consistent product quality through to long term durability.  Here, we list the reasons why specifiers should choose Naylor Precast products.
Consistency
Naylor Precast products are manufactured in a controlled environment which enables us to guarantee product quality.  Unlike products which are cast-in-place on site, our precast products are made in facilities whose conditions are closely monitored at all times to ensure Naylor Precast products are of a consistently high quality.  And, because our products are precast, they also have a consistent product finish and appearance giving specifiers and designers confidence that the product they choose will have the aesthetic they expect.
Cost Effectiveness
Precast concrete products can cost more to purchase than their alternatives but they provide other cost savings which make them more cost effective overall.  Specifically, the specification of precast concrete products can result in time savings as they can be manufactured faster than alternative products, reduce labour costs and, because they're made off site, eliminate costly project delays.
Design Flexibility
Unlike many alternative solutions, precast products can give architects and end users the opportunity to create unique and aesthetically pleasing structures. Our products can be custom made to suit specific project requirements and design treatments, giving specifiers a versatile concrete solution.
Speed of Construction & Reduced Site Disruption
Time, as the saying goes, is money and the specification of a precast concrete solution can significantly speed up the construction process.  Unlike cast-on-site alternatives, precast products can be manufactured as a construction site is being prepared and then, when the site is ready, delivered and installed to keep project timelines as short as possible.  And because precast products are manufactured off-site, their use means there is minimal disruption to the areas immediately surrounding a construction site.
Durability
Precast concrete products offer superior durability over alternative solutions.  Resistant to weather, chemicals and even fire without the need for any special treatments or coatings, precast concrete products are, as a result, often the best choice for applications such as buildings, bridges and car parks.
Performance and structural integrity
All Naylor precast elements are engineered for structural integrity. This means specifiers and end users can be confident that Naylor precast products will at the very least meet and usually exceed the minimum safety and performance requirements for their project.
Maintenance requirements
Precast products provide a low maintenance, high performance solution and often require much less maintenance than products manufactured from other construction materials.
Improved Site Safety
The specification of precast solutions also removes the need to create an alternative type of solution on site and, as a result, eliminates any associated health and safety risks.
Aesthetics
Last, but my no means least, Naylor precast products give designers, architects and end users the choice of a wide range of textures, giving them complete design flexibility and enabling them to create the design they want for their project.
If you would like to know more about Naylor's comprehensive range of precast products, please contact our sales team on 01226 320810.